Costs for your tandem skydive from 4.000m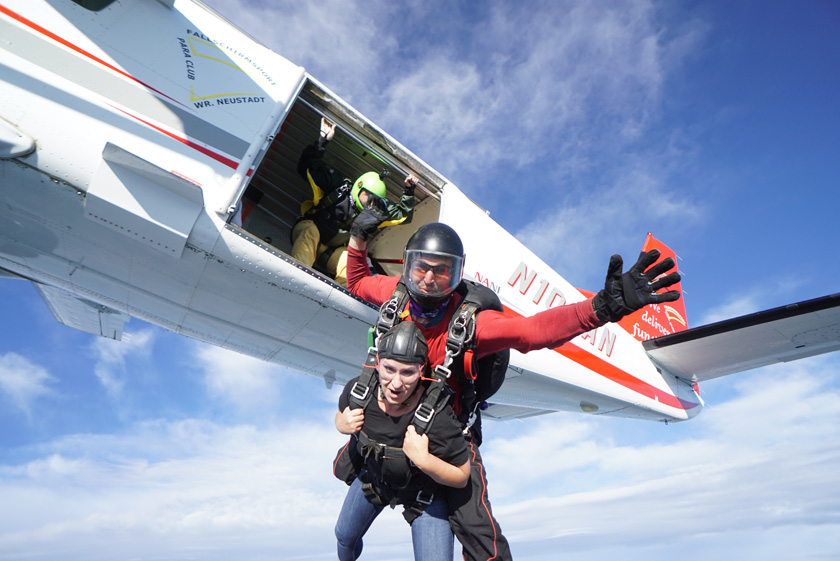 The price is what you pay for - quality and safety is what you get
| | |
| --- | --- |
| Tandem from 4.000m | 250,- * |
| Order from 5 vouchers | -10,- */Voucher |
| Tandem+Video | 350,- |
| Tandem+Photos | 330,- |
| Tandem+Video- and photos | 365,- |
| Tandem+HandCam Photos | 300,-** |
| Tandem+HandCam Video | 330,-** |
| Tandem+HandCamVideoPhotos | 350,-** |
* Prices are valid up to a weight of 90kg (including clothing)
* Over 90kg + € 30,- . Payable on site.
* From 100kg + € 50,- . Payable on site.
*
The surcharge is necessary because the weight causes greater wear and tear on the material and the maximum number of people in the aircraft can be reduced due to the weight
**Hand-Cam recordings are not available as a voucher - please ask on site
** Hand-Cam recordings can not booked online - please ask on site
All prices in EUR and subject to change.
At Skydive Vienna you can pay with cash, all common credit cards and European ATM (Maestro) cards
Video- / Photo analysis of your parachute jump
The camera flyer stays by your side throughout the jump. Your instructor will discuss your freefall attitude with you. This is especially beneficial if you continue your education after your first tandem jump. In addition you can, together with friends, experience your adventure all over again, edited and set to music. The video will capture the whole experience, from your initia instruction, to the ascent in the aircraft, your freefall, and the landing.
Please let us know when booking your appointment, if you want a camera flyer to accompany you.
If there are no more camera jumpers available, please ask about the hand-cam option on site.
send us e-mail: This email address is being protected from spambots. You need JavaScript enabled to view it.
Bank details Para Club Wiener Neustadt
IBAN: AT49 2011 1837 4654 9200
We would like to point out, that the Para Club Wiener Neustadt is a non-profit, non-commercial sport club. The jump price for our licensed sport jumpers do not cover the real flight costs of our Supervan, one of the fastest and most powerful skydiving aircraft in Europe. As a non-profit, non-commercial association, we promote physical and mental fitness through sporting activity and the practice of parachuting. We offer tandem jumps also for the recruitment of new members, as a mean to achieve our association´s purpose.