Skydiving
Only 40min from Vienna, your dream of flying will become real
Skydiving from 4000m, with 200km/h
Available appointments
from mid-April to the end of October every weekend and public holiday
from May additionally on Friday from 03:00pm
from June additionally also Wednesday from 04:00pm
from July additionally also Thursday from 04:00pm
from August additionally on selected Mondays and Tuesdays from 04:00pm
Dates for the 2021 season (mid-April to the end of October) can be booked from mid-March.
Vouchers are always available online.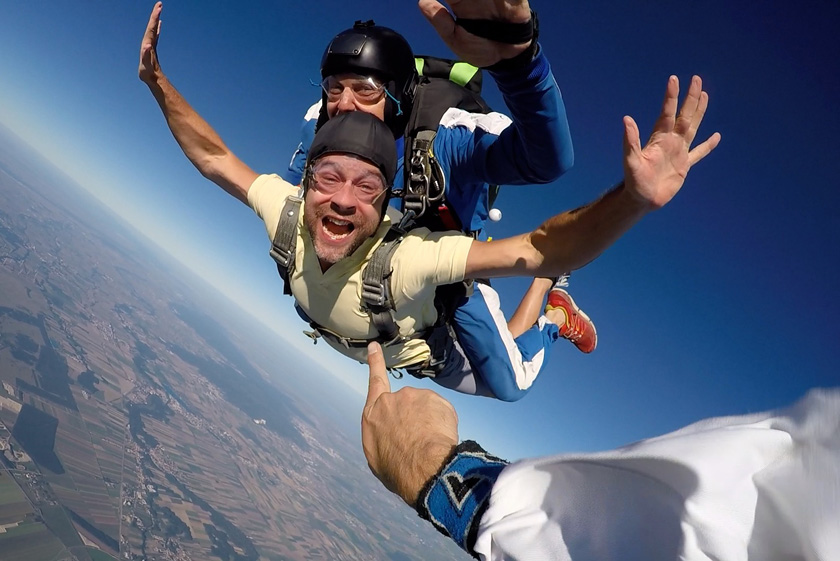 Quickly to your tandem jump
Fill in data of the buyer. The voucher is not issued by name

Payment methods - "Sofort Banking", credit card, PayPal - the voucher will be sent to you immediately

by e-mail

after successful completion
Payment method - cash in advance - as soon as the amount has been booked on our account, the voucher will be sent to you by e-mail (note the booking period)
After receiving the voucher you can book online immediately or later
Fill in data from the passenger or of the buyer
Group -

please book

one Name
Please arrive 30 minutes befor your appointment (short briefing)
Information about procedure
Vouchers

can be bought online

Vouchers are sent by email and can be printed out immediately

Purchase more than one voucher - each voucher will be sent in a separate massage
With the coupon code you can book an appointment online

Voucher expired - send voucher code to

This email address is being protected from spambots. You need JavaScript enabled to view it.

A camera jumper can film only one person in free fall

Groups - up to seven tandems can be started together

Glasses and contact lenses pose no problem

Arrival - please arrive 30 minutes before your appointment (short briefing)

Time required - around 60 minutes - allow more time - 2-3 hours (weather)

Bad weather - You will be notified by SMS and you can book a new appointment

Requirements - min. Size 1,35m / max. Weight 90kg to 115kg surcharge
Clothing -

sporty shoes, long trousers, gloves in spring and autumn
Send us e-mail:

This email address is being protected from spambots. You need JavaScript enabled to view it.
Quickly to prices
The entry into skydiving sport
A tandem jump offers you the possibility to experience freefall, completely safe, after a short instruction-training. Either for yourself or as a present, get the feeling of freedom and adrenalin with the Para Club Wiener Neustadt.
"The door of the airplane opens. The wind blows in your face. Below you only 13,000 ft of air. Even the loudest screams of joy will not be heard, once you have stepped out into the sky."